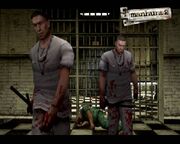 Asylum Orderlies or Asylum Staffs oversee the patients of the Dixmor Hospital, of which include Danny and Leo. Their intentions are truly twisted, they do their job mainly for the money, and are usually seen assaulting the escaped patients with Nightsticks. These are first persons that Danny must kill in Manhunt 2. They don't appear to be very skilled in hunting or hand-to-hand combat. Overall, they couldn't care less about the patients or what happens to them. They only appear in the mission Awakening. Their weapons of choice are the Nightstick and the Syringe.
Asylum Orderlies' Names
Edit
Ad blocker interference detected!
Wikia is a free-to-use site that makes money from advertising. We have a modified experience for viewers using ad blockers

Wikia is not accessible if you've made further modifications. Remove the custom ad blocker rule(s) and the page will load as expected.