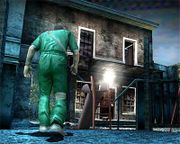 It is the home of the Lamb family located in Cottonmouth, Manhunt 2. It appeard in the levels Ghosts and Domestic Disturbance.
Domestic Disturbance
Edit
The house is domiciled by Danny and his family. It's a one floored house with a basement and a garden.
The house is abandoned. Danny and Leo search for the Cortexia drug in the house. After that, they are assaulted by The Watchdogs.
Kitchen
Living Room
Corridor
Basement
Bathroom
Child's room
Bed room
Garden
Weapons and items
Edit
There is a hidden room in the house. It's behind the living room. To see it, wall hug into a corner and use the eyes view to see throw a wall. Note: this can be a little tricky and difficult.
Ad blocker interference detected!
Wikia is a free-to-use site that makes money from advertising. We have a modified experience for viewers using ad blockers

Wikia is not accessible if you've made further modifications. Remove the custom ad blocker rule(s) and the page will load as expected.