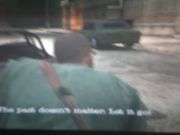 The Greenwood is a 4 door vehicle in Manhunt 2, Grand Theft Auto: Vice City, Grand Theft Auto: San Andreas and Grand Theft Auto: Vice City Stories. In Manhunt 2, it appears only in the level Sexual Deviants.
The Greenwood bears a strong resemblance to an mid/late-80's Dodge Diplomat, Plymouth Gran Fury, or a Chrysler Fifth Avenue. The grille, vinyl roof and headlights are closer to the Fifth Avenue. The back doors could either be from the Diplomat or Gran Fury.
Ad blocker interference detected!
Wikia is a free-to-use site that makes money from advertising. We have a modified experience for viewers using ad blockers

Wikia is not accessible if you've made further modifications. Remove the custom ad blocker rule(s) and the page will load as expected.