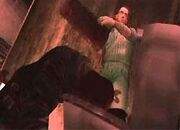 The Toilet Cistern is an environmental execution that appears in Manhunt 2. It appears in the levels Sexual Deviants and Bees Honey Pot.
Execution
Edit
Daniel shoves the hunter's head into the toilet cistern and then slams the hunter into the toilet seat on the rebound, forcing the hunter to fall head first over the toilet pan. Daniel then reaches for the toilet cistern lid and smacks the hunter across the face as he raises his head to free himself. With the hunter now lying with his head in the toilet he slams the cistern lid down onto the hunters head two more times and places the lid back on the cistern. As Daniel walks away from the fallen hunter he kicks him in the leg.
Ad blocker interference detected!
Wikia is a free-to-use site that makes money from advertising. We have a modified experience for viewers using ad blockers

Wikia is not accessible if you've made further modifications. Remove the custom ad blocker rule(s) and the page will load as expected.