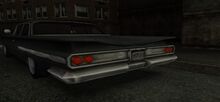 The Voodoo is a lowrider in Manhunt 2, Grand Theft Auto: Vice City, Grand Theft Auto: San Andreas, Grand Theft Auto: Vice City Stories, and Grand Theft Auto IV. In Manhunt 2, it can be seen outside the Strip Club and Fetish Dungeon in the level Sexual Deviants and at the end of the introduction cutscene for Bee's Honey Pot.
With its panoramic windshield and distinctive sideways tail fins, the Voodoo strongly resembles a 1960 Chevrolet Impala. But it has a double taillight design rather than the Impala's triple taillights, like the lesser full-size Chevys, the Bel Air and the Biscayne (possibly to avoid legal disputes).
Ad blocker interference detected!
Wikia is a free-to-use site that makes money from advertising. We have a modified experience for viewers using ad blockers

Wikia is not accessible if you've made further modifications. Remove the custom ad blocker rule(s) and the page will load as expected.